Southeast ShakeOut – October 16, 2014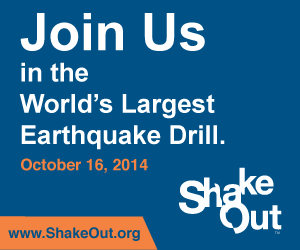 While large earthquakes in North Carolina are rare, it is still important for you to know how to react in the event of an earthquake. You could be anywhere when an earthquake strikes. Millions of people worldwide will practice how to Drop, Cover, and Hold On while participating in the Great ShakeOut Earthquake Drill on October 16, 2014 at 10:16 a.m.
The largest earthquake in North Carolina was a 5.2 magnitude earthquake and occurred on February 21, 1916 near Waynesville NC. Structural damage was reported all across the area with chimney tops coming down and windows breaking.
During an earthquake, the greatest immediate danger in most homes and buildings is from falling items such as furniture, ceiling tiles, pictures, mirrors and ceiling fans. ShakeOut drills inform people at school, work and home how to prepare for and to survive an earthquake.
It's easy to participate. At 10:16 a.m. on Oct. 16, participants are asked to:
Drop to the ground
Take Cover under a sturdy table or desk & protect your head and neck
Hold On until the shaking stops.
You can join the 2014 Great SouthEast ShakeOut today by registering online. Participating is a great way for you, your family, and your co-workers to be prepared to survive and recover quickly from big earthquakes– wherever you live, work, or travel.
You can follow the Great SouthEast ShakeOut on Twitter at: @SE_ShakeOut or on Facebook at:  https://www.facebook.com/SouthEastShakeOut