Statewide Tornado Drill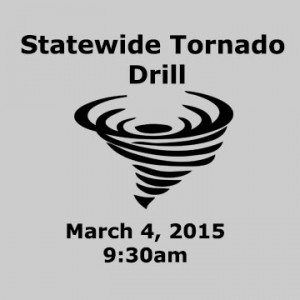 North Carolina's annual statewide tornado drill for 2015 will take place today, Wednesday, March 4, at 9:30 a.m. Every school, business, work place, and family across the state is strongly encouraged to participate in the statewide tornado drill.
You can listen to NOAA weather radio for the drill announcement or you can just participate by simulating the drill when it works for you.
This is a great time for your family to participate by holding a family drill. Have everyone go to your designated safe place and hang out together for a few minutes. This is a good way to make sure that you can all fit in your space and that you have all of the supplies that you need. You might think about keeping a pair of shoes and some type of helmet in your safe place for each member of your family. Shoes are very important in the event that a storm does damage to your home. You would not want to be walking around barefoot in storm damage. A helmet can help protect your head from flying debris.
Take this seriously and it could end up saving your life.