Plant NOW for All Season Interest!
By Margy Pearl, Extension Master Gardener Volunteer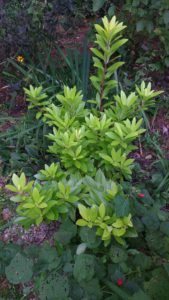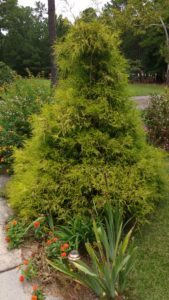 What do gardeners love about fall? Long comfortable gardening days and sales on a huge variety of attractive, interesting plants. But the most fun thing is adding new plants to our landscape during this season because Fall is the very BEST season to Plant!
Why plant now rather than in the spring? Especially for trees and shrubs, cooler ground temperatures encourage growth and allow time to establish a healthy root system. With a larger root system in the spring, more water can be taken up to survive high temperatures and drought stress. Cooler temperatures now also reduce watering needs and discourage insect pests, diseases, and weeds. No fertilizing is needed since we don't want to encourage new upper plant growth that could be damaged by harsh winter winds.
More information on fall planting: linked to Why Plants Dig the Fall- if you can! Thanks, Sylvia!
What plants will create an interesting all season landscape? Focusing on only shrubs and trees, below is a list of suggestions with plants that are generally more insect and disease free, lower maintenance and includes many natives. Most are either in my yard or on my wish list!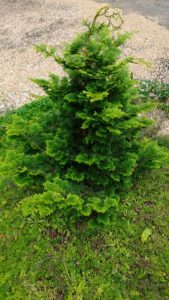 Plants with Interesting foliage, bark, flowers, berries, and/or fragrance!
False cypress (Chamaecyparis) tough, great textures, many with gold foliage. Others: http://www.midwestgardentips.com/false_cypress.html
Globe blue spruce (Picea pungens 'Globosa'): 5-6' native Striking silver-blue foliage. Others: https://www.thespruce.com/twelve-spruce-trees-and-shrubs-3269669

                         

'Blue Star' juniper (Juniperus squamata 'Blue Star') 2-5' native, variegated. Others: http://www.bhg.com/gardening/plant-dictionary/shrub/juniper/
Purple smoke bush (Cotinus coggygria) 10-20'. Vertical stems. Older plants produce tiny yellow flowers that change to showy pinkish puffs. New foliage is bright red, becoming deep burgundy then orange-purple in the fall. Pair with Chartreuse plants to pair with purple foliage for eyepopping contrast:  http://www.bhg.com/gardening/design/color/chartreuse-garden/
American Cranberrybush Viburnum (Viburnum trilobum ) 8-12' native Lacecap-type white flowers, maple-shaped foliage, yellow to purple reddish fall color,  edible bright red fruit that shrivel to red raisins in late winter. Dwarf cultivar available. Others: https://extension.illinois.edu/hortihints/0204a.html
Oakleaf hydrangea (Hydrangea quercifolia). 6' native Big oakleaf-shaped leaves with large white panicles blooms that persist through winter. Red fall foliage and exfoliating bark. Cultivar 'Snowflake'- unique double blooms.
Florida Anise (Illicium floridanum) 6-8' native  Nodding, dark red flowers in spring. Needs moist soil. Crushed leaves smell like licorice. 'Florida Sunshine' has gold foliage.
Witch Hazel (Hamamelis virginiana) 15 x15' native deciduous shrub. Yellow, orange or red late winter blooms, fragrant.
River Birch (Betula nigra) 40-60' fast growing native Pinkish to reddish brown bark exfoliates revealing lighter inner bark. Plant in moist to wet soil.
Ninebark (Physocarpus opulifolius): Deciduous, 6-10' native Birds, bees and butterflies attracted to white flowers in early spring. Peeling bark on older stems, superb fall color, clusters of pinkish fruit capsules from late summer into fall. Cultivars:  'Dart's Gold' with chartreuse leaves

and

'Diablo' with purple foliage.

  

Redtwig Dogwood (Cornus sericea 'Cardinal') and Yellowtwig dogwood (Cornus sericea 'Flaviramea') 6-9' native  Cultivar Cornus alba 'Elegantissima'– variegated white/green foliage. 'Wolf Eyes'- variegated cultivar of Cornus kousa.
Winterberry (Ilex verticillata) 3-12' native deciduous shrub. A male and a female plant is needed to produce long-lasting bright red berries which attract birds. Others, including variegated:      https://pubs.ext.vt.edu/content/dam/pubs_ext_vt_edu/3010/3010-1482/3010-1482_pdf.pdf
More tough, all season plants!
Spireas (Spiraea thunbergii):  http://homeguides.sfgate.com/spirea-gold-varieties-45573.html
Abelias– 'Kaleidoscope' 'Radiance' and 'Miss Lemon'
Loropetalums- New, variegated 'Jazz Hands' (at Hudson's Hardware!)
http://www.clemson.edu/extension/hgic/plants/landscape/shrubs/hgic1085.html
Camellias (Camellia susquana and japonica): http://www.clemson.edu/extension/hgic/plants/landscape/shrubs/hgic1062.html
Redbuds (Cercis Canadensis): Native.  Weeping 'Ruby Falls' and 'Rising Sun', 'JN2'
Other Sources:
http://extension.illinois.edu/gardenerscorner/issue_05/spring_04_05.cfm
http://www.finegardening.com/only-shrubs-you-need-grow#ixzz4sJFd1jKm
https://wimastergardener.org/article/adding-winter-interest-to-landscapes/
https://guilford.ces.ncsu.edu/wp-content/uploads/2014/10/Winter-Interest-Brochure-color.pdf?fwd=no
Was the information on this page helpful?